 Customer Relationship Management (CRM)
Free HubSpot CRM
The HubSpot CRM customer management system assists brands in enhancing the customer's experience, creating a complete set of "customer journeys" based on customer behavior records at various stages to increase customer retention, creating additional value for customers and increasing revenue.
What it can do?
Do you want to have a clearer understanding of various behaviors, and track what customers browsed on your website? Do you want to accurately target the specific preferences of your customers with marketing information?
HubSpot perfectly integrates various practical digital tools such as CRM, automation tools, newsletters, websites, landing pages, blogs, social media, knowledge bases, business development, and chatbots. Use content marketing and Data Driven methods to obtain high traffic and high conversion rates to help you continue to increase ROI.

Trusted By
CRM is an essential digital transformation tool for enterprises
Strategize and win
Company performance insights
The overall performance of marketing activities, profit estimates at various stages, the company's network volume, community popularity, consumer feedback content and customer satisfaction, etc., can all be seen through HubSpot's report analysis tool. You only need a report dashboard and you can instantly visualize all of the data.
Third-party technology
HubSpot can connect with more than 500 third-party software, so your system can be continuously expanded and upgraded. Don't worry about using HubSpot, you eventually have to abandon the old systems you're used to. The functions you love may be among the more than 500 tools offered.
Customer behavior tracking
After Google bans third-party cookies, how can your business continue to keep track of the trends of potential customers that are interested in you? HubSpot CRM helps you track the first-hand information of all potential customers, regardless of which pages they have viewed and how many forms they have filled in , Which CTA's were clicked and which product pages were interacted with, can be recorded and captured.
Comply with the GDPR world trend
The development of the Internet has brought more attention to the protection of personal assets. The EU's GDPR and the US's California Consumer Privacy Act all reveal the legitimacy and legality of online data collection. HubSpot is a global company that responds to the protection of personal information and information security issues are also embedded in the system design.
Full control of the data. Efficient marketing planning
Form templates
Forms are required for web pages, event pages, and online and offline activities. The HubSpot form can be completed with simple and easy steps to create a form, making it easier to attract customers. At the same time, the collected customer information will be added into the system, and you will be able understand more about your customers.
Community management
The posting schedules and message replies of Facebook, IG, and Twitter are all gathered in HubSpot Social for unified management, so that you know what the operating conditions of the major communities are.
Email marketing & data tracking
Newsletters are equipped with the necessary data tracking tools to track open rate, click rate, bounce, etc. What's even better is that the built-in URL click tracking and high-engagement contact records are clearly displayed. Simply extract multiple relevant newsletters to compare the results of the data to help marketers analyze the results of the letters.
Chatbot
Through chat bots, we can solve various customer problems that arise during the execution of marketing activities, save the burden of the marketing team and help screen the truly valuable customer groups.
Understand the best methods of interaction with customers
Sales process management
The current sales phase includes expected profit, and expected conversion rate of each order. These can be managed through the Deals Management flowchart to control the sales phases, so that the business can immediately grasp the progress.
Customer behavior tracking
HubSpot helps businesses track customer trends, including which pages have been viewed, how many forms have been filled out, which CTA has been clicked, which product pages have been shown interest, or the page of the product catalog forwarded by the customer can be clearly recorded.
Business card scanning system
After businesses exchange business cards with potential customers, there is no need to manually enter them. The HubSpot App can scan the business cards with high resolution and directly record the customer's business card information into the CRM.
Instant cross-channel communication
The source of customer demand for products may be Email, Message, forms, and chatbots. HubSpot organizes cross-channel information sources within the inbox. The business team only needs to open the inbox to answer all cross-channel messages at the same time. Including any chance of a possible deal.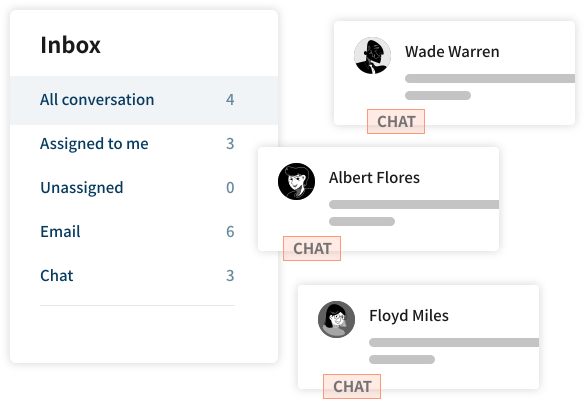 Always on standby to resolve customer related issues
Instant cross-channel communication
The source of customer demand for products may be Email, Message, forms, and chatbots. HubSpot organizes cross-channel information sources within the inbox. The business team only needs to open the inbox to answer all cross-channel messages at the same time. Including any chance of a possible deal.
Ticket Service Center
HubSpot converts each customer question or demand into a ticket. Through the Ticket Pipeline management system, it helps the customer service team understand the processing progress, urgency, content details and other information of each customer problem, and easily assign the ticket to the relevant person in charge, so that customer problems can be eventually resolved.
Knowledge base management
You can organize various texts, videos, and pictures related to your industry, such as FAQs, operating manuals, and basic knowledge, into the HubSpot Knowledge Base. Customers can search the database by themselves, get database content through chatbots, or online customer service. Personnel can quickly extract database information during the conversation to give customers more details.
consumer satisfaction survey
Through the satisfaction survey, you can find out which services or products the market likes about you, and clearly understand whether customers are satisfied with the services provided by the customer service team. HubSpot's feedback system provides you with executable data, allowing you to optimize products with the use of actual customer feedback, as well as identify highly satisfied customer groups and convert them into product promoters.
HubSpot prices and services
Turn your idea into actions
HUBSPOT MARKETING
Plan your content strategy
Formulate powerful content strategies to attract natural traffic, and actively cultivate potential customers to transform into actual customers.
HUBSPOT SALES
Optimize your customer-finding process
Through continuous observation, evaluation and optimization, improve your work flow and message transmission efficiency.
HUBSPOT SERVICE
Knowledge base
Store all kinds of industry knowledge and provide them to your customers through the use of chatbots.
HUBSPOT SERVICE
Chatbot
Assists in answering simple and fixed questions, or assist in categorizing customer questions to reduce labor costs.
Is there an engineer that can assist me?
Not sure how to import data?
We assist with importing data
We can help !
Is there an engineer that can assist me?
Not sure how to import data?
The hububble team has invested a lot of time and effort in assisting corporate customers with HubSpot system integration and digital transformation in 2021.

Hububble is currently the most accredited HubSpot agent in Taiwan. We are accredited through official online teaching and multiple exams, and have passed Inbound Marketing, Email Marketing, CMS Implementation and many other licenses, and will continue to increase our range in the future.

2020-2021 Newly acquired customers:
BenQ, Appier, SEMI Taiwan, InQuartik, DFI

Frequently Asked Questions
FAQs
Why use HubSpot?
HubSpot brings together all the tools businesses need to grow better. The HubSpot CRM platform has proprietary marketing, sales, customer service, website content management, and operations software with hundreds of certified integrations to provide businesses with a single source of truth needed to provide delightful customer experiences.
Which is better, HubSpot CRM or Salesforce CRM?
If you're looking for free or affordable CRM software that's easy to learn, HubSpot is the better choice. Meanwhile, if you're looking to invest your time and money in powerful and customizable CRM software, Salesforce might be right for you.
HubSpot and Salesforce have just one-tenth of a point difference in Best CRM Software for 2022 ratings. Both have similarities in availability of tech support. Both have strong support teams and are available 24/7.
Salesforce wins on features. It offers a variety of products to help you manage multiple aspects of your business -- going beyond the pillars of sales, service, and marketing to assist users in e-commerce, mobile applications, analytics, and more. It's the CRM of choice for many large companies that can invest in multiple products.
Salesforce also offers plans designed for small businesses — a great option for companies looking to grow.
However, customers comment that Salesforce takes time to master, although they praise its extensive functionality. In contrast, HubSpot gets high marks from users for its intuitive design. Its marketing, sales, service and CMS hubs have all the features most SMBs need.
In most cases, HubSpot is the more affordable option of the two. HubSpot offers free CRM software with many useful tools for small startups like landing page and website builders, ticketing systems, quotation tools, and more.
Is HubSpot easier to use than Salesforce?
HubSpot is one of the easiest-to-use marketing automation platforms on market. It has earned this reputation because it is easy to implement and master, and it provides a wealth of resources to help you realize the software's full potential. These include FAQs, tutorials, and email and website templates.
Unlike Salesforce, HubSpot is designed with users in mind and has a great user interface that makes it easy to get started. That's why it has such a high adoption rate. HubSpot's excellent customer service means that even if you do have a problem, there's always someone to help.
Both Salesforce and HubSpot have earned their place as the two most widely used CRM systems because they're both great choices, but they're designed with different types of businesses and users in mind. If you're a large business with a complex sales process, Salesforce is right for you. However, for SMBs that need an easy-to-use and cost-effective tool, HubSpot is your best choice.
Is HubSpot really free?
Yes, it's FREE! You can store up to one million contacts in the HubSpot database, and have that data available to an unlimited number of users on your team.
Confused about HubSpot's products or how it's priced?
HubSpot offers end-to-end products that impact each stage of the customer journey.
HubSpot CRM is a completely free CRM that lets you store and manage up to 1,000,000 contacts, while tracking every interaction across your communication channels.

HubSpot Marketing Hub helps you attract the right audience, convert customers, and run complete inbound marketing campaigns at scale.

HubSpot Sales Hub gives you deeper insight into your prospects, automates sales processes, and helps you close more deals faster.

HubSpot Service Hub automates customer-facing services and centralizes all your customer service data and channels.

HubSpot CMS Hub is content management software that's flexible for marketers, powerful for developers, and lets you track, store, and integrate consumer information to give customers a personalized, secure experience.

HubSpot Operations Hub connects your apps, syncs, cleans, and curates customer data, and automates every process for frictionless business processes and customer experiences.
Each product has three pricing tiers depending on the number of components made available to you. If you want to understand which package is appropriate to your company, contact us directly. 👉 Reserve a 15-minute meeting time.