 Digital customer service tools
HubSpot Service Hub
Automatically assign a customer service staff to reply in-time according to the customer's reply. You can employ multiple functions such as live chat, database search, etc., to help you maintain customer satisfaction and allow your small business to provide high-quality customer service.
What it can do?
Customer information is integrated in the HubSpot CMS, Service Hub brings all your customer service data and channels together, so that customer service staff can view it at any time. Customer service staff can manage cases more efficiently, track customer history records, and increase your service satisfaction by automating service procedures.

Trusted By
The Tools You Need to Delight Customers at Scale
Automated processes and real-time automated responses
Help desk and Ticket automation
When customers ask from different platforms, the help desk can be integrated in the same interface and can be automatically assigned replies. At the same time, tickets are issued. Automation can also be used in the ticket process.
Knowledge Base
Help customers find their own answers in the knowledge base and reduce wasted support time. Convert frequently asked questions into searchable help articles, videos and files.
Live Chat
Immediately help customers on your website. Automatically assign customer issues to the right people within your service team, and build better relationships with customers through past conversation records and customer interaction records.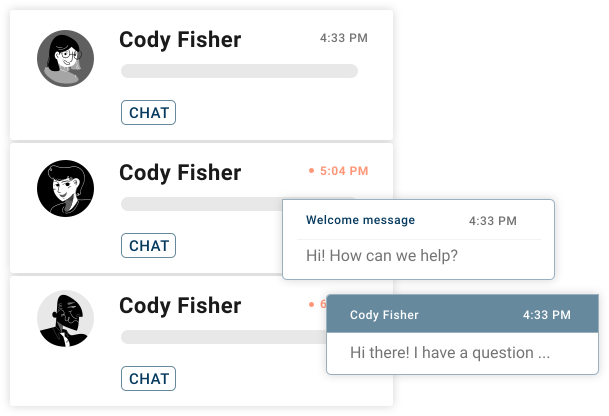 Improve collaboration by combing your teams and its channels
Conversation inbox
Connect team email, live chat, Facebook Messenger, etc. to a common inbox, so your entire team can easily manage and respond to conversations in one place.
HubSpot CRM
A customer management system to obtain the information needed to help customers succeed. In CRM, the entire team automatically tracks customer details and records of interactions with your business.
Team management
Make sure that every user has access to the right assets so that your team is organized. Quickly view and manage permissions, status, and availability across the entire team.
Identify opportunities to improve customer experience
customer satisfaction survey
Let your customers be satisfied with your service. Set up NPS, CSAT, CES and custom questionnaires to collect feedback, which can be used to build a better customer experience.
Customizable
Storage and customization can improve all the data needed for customer service. Create single-subject, cross-subject or channel reports to monitor the operating status of the business.
Report dashboard
Collecting data can improve customer service. Data-backed reports highlight the most important service requests and evaluate team performance through enhanced dashboard capabilities.
HubSpot Service Hub services
Turn your idea into actions
HUBSPOT SERVICE
Develop an auto-reply chatbot
Develop customized chatbots for Line, Facebook or other communication systems.
HUBSPOT SERVICE
Create an automated service process
Well thought out customer service processes, customized designs of different services, automatic assignment and automatic tracking, greatly reduces tedious work.
HUBSPOT SERVICE
HubSpot system connection
No matter where your website is built, we can help you connect HubSpot to your website flawlessly, so that you can see all the data tracking information at a glance.
HUBSPOT CMS
Implement an outstanding HubSpot website
Launch the smallest viable HubSpot website quickly and cost-effectively, and you can choose to easily upgrade as you grow.
Is there an engineer that can assist me?
Not sure how to import data?
We assist with importing data
We can help !
Is there an engineer that can assist me?
Not sure how to import data?
The hububble team has invested a lot of time and effort in assisting corporate customers with HubSpot system integration and digital transformation in 2021.

Hububble is currently the most accredited HubSpot agent in Taiwan. We are accredited through official online teaching and multiple exams, and have passed Inbound Marketing, Email Marketing, CMS Implementation and many other licenses, and will continue to increase our range in the future.


2020-2021 Newly acquired customers:
BenQ, Appier, SEMI Taiwan, InQuartik, DFI

如何取得 HubSpot 最優惠的價格?
建議您在 HubSpot 官方網站留下 Email 前先與我們聊聊,如果官方開始與您接洽,你能爭取到的折扣將會非常有限。Hububble 作為台灣第一家鑽石級代理商,台灣銷售第一,我們會盡力幫台灣的企業爭取更好的折扣。
HubSpot 有中文版嗎?
HubSpot 目前的介面沒有中文版,但透過我們 16 個小時的教育訓練,您會對於介面非常熟悉,使用起來得心應手,若你能需要中文協助,可以透過 Chrome 瀏覽器按右鍵翻譯。📌 官方宣佈在今年 2022 會有中文介面的發佈,包含線上客服都會有中文的支援。
HubSpot Service 如何結合 CRM、行銷和業務?
與 Marketing Hub 和 Sales Hub 結合使用時,Service Hub 將客戶數據與潛在客戶和交易數據整合在一起,這是市場上其他工具做不到的的。這使行銷、服務和銷售團隊能夠訪問客戶與公司互動的完整記錄,使他們能夠共同協作以更好、更快地解決客戶問題。
為什麼選擇要 HubSpot Service?
HubSpot 脫穎而出的是它的易用性、可負擔性、彈性的工具選項、以客戶為中心的 CRM 設計,All in one 整合其他第三方工具與客戶資料。 HubSpot 的強大之處就是可以整合全渠道的客戶旅程,可自動化培育與客戶售後服務,自動化安排客戶調查確保您的客戶對你們感到滿意。
為什麼企業都該擁有知識庫 Knowledge Base ?
知識庫是有關您的產品或服務的訊息庫。它可以幫助客戶找到自己解決問題的答案,而且——如果你做得正確,一個好的知識庫可以幫助你的客戶立即得到答案,同時改善整體客戶體驗。
有很多方法可以提供卓越的客戶服務。根據HubSpot Research的數據,62% 的客戶希望通過電子郵件與公司溝通以獲得客戶服務,48% 的客戶希望使用電話,42% 的客戶更喜歡實時聊天,36% 的客戶喜歡"聯繫我們"表格。
然而,最重要的是,消費者希望自己找到答案。
HubSpot 不同方案的價格?
詳細價格列表請參考 HubSpot 定價


| | | | | | |
| --- | --- | --- | --- | --- | --- |
| 方案 | Marketing | Sales | Service | CMS | Operations |
| 入門版 | $50 美元 / 月 | $50 美元 / 月 | $50 美元 / 月 | $25 美元 / 月 | $50 美元 / 月 |
| 專業版 | $890 美元 / 月 | $500 美元 / 月 | $400 美元 / 月 | $400 美元 / 月 | $800 美元 / 月 |
| 企業版 | $3200 美元 / 月 | $1200 美元 / 月 | $1200 美元 / 月 | $1200 美元 / 月 | $2000 美元 / 月 |
如何串接 HubSpot API ?
對於工程師或行銷來說,只要有 API,我們基本上都能將資料串進來,但你知道 HubSpot API 什麼時候會用到嗎?又或者,HubSpot 的 API 有哪些可以用呢?請參考此篇 👉 HubSpot API 串接中文教學指南