 Digital customer service tools
HubSpot Service Hub
Automatically assign a customer service staff to reply in-time according to the customer's reply. You can employ multiple functions such as live chat, database search, etc., to help you maintain customer satisfaction and allow your small business to provide high-quality customer service.
What it can do?
Customer information is integrated in the HubSpot CMS, Service Hub brings all your customer service data and channels together, so that customer service staff can view it at any time. Customer service staff can manage cases more efficiently, track customer history records, and increase your service satisfaction by automating service procedures.

Trusted By
The Tools You Need to Delight Customers at Scale
Automated processes and real-time automated responses
Help desk and Ticket automation
When customers ask from different platforms, the help desk can be integrated in the same interface and can be automatically assigned replies. At the same time, tickets are issued. Automation can also be used in the ticket process.
Knowledge Base
Help customers find their own answers in the knowledge base and reduce wasted support time. Convert frequently asked questions into searchable help articles, videos and files.
Live Chat
Immediately help customers on your website. Automatically assign customer issues to the right people within your service team, and build better relationships with customers through past conversation records and customer interaction records.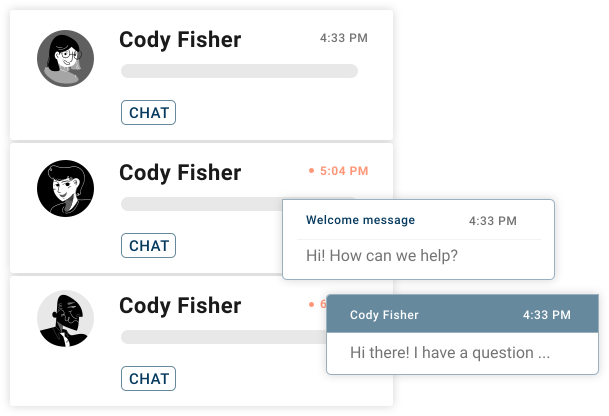 Improve collaboration by combing your teams and its channels
Conversation inbox
Connect team email, live chat, Facebook Messenger, etc. to a common inbox, so your entire team can easily manage and respond to conversations in one place.
HubSpot CRM
A customer management system to obtain the information needed to help customers succeed. In CRM, the entire team automatically tracks customer details and records of interactions with your business.
Team management
Make sure that every user has access to the right assets so that your team is organized. Quickly view and manage permissions, status, and availability across the entire team.
Identify opportunities to improve customer experience
Customer satisfaction survey
Let your customers be satisfied with your service. Set up NPS, CSAT, CES and custom questionnaires to collect feedback, which can be used to build a better customer experience.
Customizable
Storage and customization can improve all the data needed for customer service. Create single-subject, cross-subject or channel reports to monitor the operating status of the business.
Report dashboard
Collecting data can improve customer service. Data-backed reports highlight the most important service requests and evaluate team performance through enhanced dashboard capabilities.
HubSpot Service Hub services
Turn your idea into actions
HUBSPOT SERVICE
Develop an auto-reply chatbot
Develop customized chatbots for Line, Facebook or other communication systems.
HUBSPOT SERVICE
Create an automated service process
Well thought out customer service processes, customized designs of different services, automatic assignment and automatic tracking, greatly reduces tedious work.
HUBSPOT SERVICE
HubSpot system connection
No matter where your website is built, we can help you connect HubSpot to your website flawlessly, so that you can see all the data tracking information at a glance.
HUBSPOT CMS
Implement an outstanding HubSpot website
Launch the smallest viable HubSpot website quickly and cost-effectively, and you can choose to easily upgrade as you grow.
Is there an engineer that can assist me?
Not sure how to import data?
We assist with importing data
We can help !
Is there an engineer that can assist me?
Not sure how to import data?
The hububble team has invested a lot of time and effort in assisting corporate customers with HubSpot system integration and digital transformation in 2021.

Hububble is currently the most accredited HubSpot agent in Taiwan. We are accredited through official online teaching and multiple exams, and have passed Inbound Marketing, Email Marketing, CMS Implementation and many other licenses, and will continue to increase our range in the future.


2020-2021 Newly acquired customers:
BenQ, Appier, SEMI Taiwan, InQuartik, DFI

Frequently Asked Questions
FAQs
How do I get the best price from HubSpot?
We suggest contacting us directly as we can provide special discounts as a HubSpot Diamond Partner.
How does HubSpot Service combine CRM, marketing and business?
When used in conjunction with Marketing Hub and Sales Hub, Service Hub integrates customer data in a way no other tool on the market can. This gives marketing, service and sales teams access to a complete record of customer interactions with the company, enabling them to work together to resolve customer issues better and faster.
Why choose HubSpot Service Hub?
HubSpot Service Hub integrates other third-party tools and customer service all in one place. HubSpot gives you the power to integrate omni-channel customer journeys, automate nurturing and customer after-sales services, and automate customer surveys. Furthermore, HubSpot Service Hub is easy to use for anyone in your marketing, sales, and service teams, affordable, and flexible.
Why should all enterprises have Knowledge Base?
Customers are more independent than we think. According to HubSpot Research, 62% of customers prefer to communicate with companies via email for customer service, 48% prefer to use the phone, 42% prefer live chat, and 36% prefer a "contact us" form. Consumers want to find information about your products and services for themselves.
This is why, a Knowledge Base is important. It is a repository of information about your product or service. It helps customers find answers to problems they can solve themselves, and — if you do it right - a good knowledge base can help your customers get answers right away while improving the overall customer experience.
What are the prices of the different HubSpot plans?
| | | | | | |
| --- | --- | --- | --- | --- | --- |
| Plan | Marketing | Sales | Service | CMS | Operations |
| Starter Edition | $50 /month | $50 /month | $50 /month | $50 /month | $50 /month |
| Professional Edition | $890/month | $890/month | $890/month | $890/month | $890/month |
| Enterprise Edition | $3600/month | $1200 /month | $1200 /month | $1200 /month | $1200 /month |

*No changes needed except if rates are different for non-Taiwan clients.
How to connect HubSpot API?
As long as there is an API, we can easily import data, but we suggest reading our API resources first here: [insert English version of HubSpot API Chinese Teaching Guide]